The quick object editing plug-in, triggered by Ctrl+1 in the canvas area, allows one to search for the desired object and open the related editing dialog without the use of mouse clicks. This is a well-known feature on many IDEs, and arrives in pgModeler to improve the user experience, especially for those who prefer a keyboard over a mouse when working with object editing. Once open the search field, just start typing the name of the object that the matching results will be displayed. To select an object, hit the arrow down to focus the dropdown menu and navigate through the results. Once found the desired object, hit Enter to open the editing dialog for that object.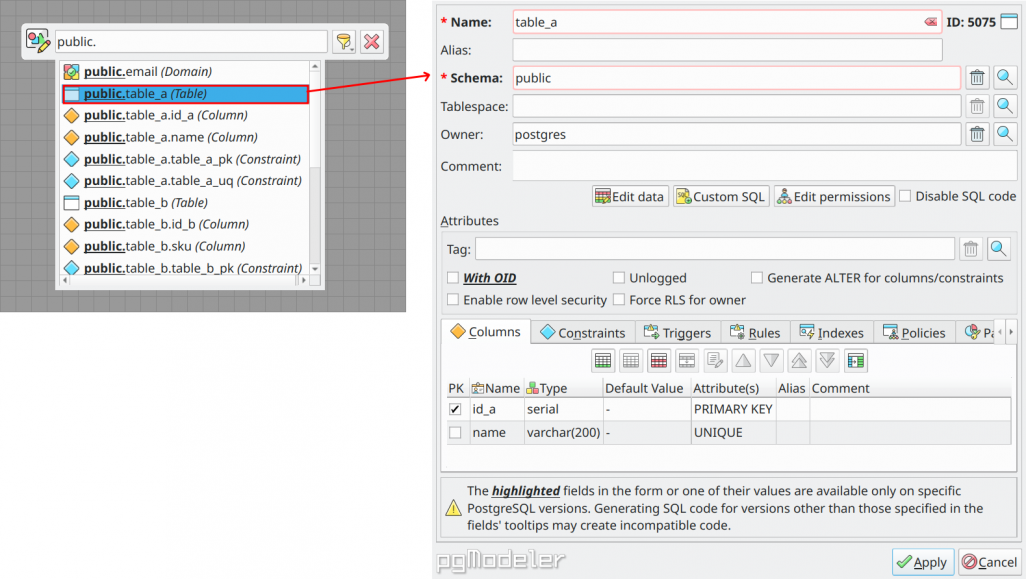 By default, all object kinds are listed in the search form, but it's possible to select only the ones you want to filter. This is useful, for example, if you are working on a heavy-populated model but want to be able to quickly edit only a few kinds of objects. There are two ways to configure the object kind to be filtered. The first one is to click the action

in the search form so the object kinds list is displayed (see the image below). Just check or uncheck the items to determine which objects you want to display in the results. Alternatively, you can access the quick edit plugin configuration from the global plug-in configuration action

in the main window.